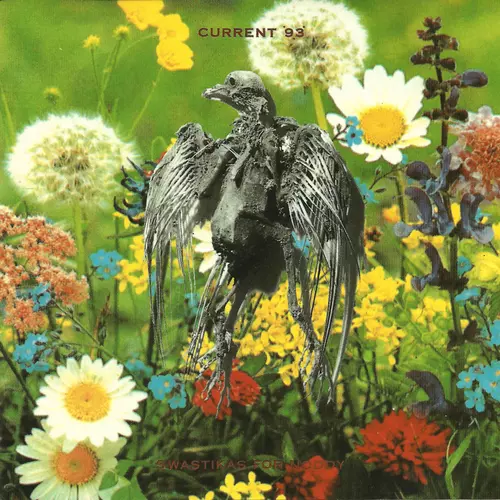 Swastikas for Noddy
Available Formats
Tracks
Price
Buy
Download Album ()
17 tracks

£

7.99

Download Album (

MP3

)
17 tracks

£

7.99

Download individual tracks
From £7.99
Description
Current 93 - Swastikas for Noddy
This Current of God:
Tibet 93: vocals
Douglas P.: guitar, drums, lead vocals on 'Angel'
John Balance: stick guitar, co-vocals on 'The Final Church'
Rose McDowall: guitar, backing vocals, lead vocalso (Hey Ho) The Noddy (Oh), co-vocals on 'Black Flowers Please'
Boyd Rice: spoken vocals
Steven Stapleton: harmonium and cello
HÖH: harpsichord
Ian Read: lead vocals on 'Benediction' and 'Valediction'
Freya Aswynn: lead vocals on 'Blessing' and 'Curse', co-vocals on (HEY HO) The Noddy (Oh), Panzer Rule
Gary Carey: keyboards on 'Since Yesterday'

"When all vegetation is covered by the flood there are now eyebrows on the face of the Waterworld."
J. Joyce, Finnegans Wake.

produced by Tibet 93 and Douglas P.

Cover: 'Bluebirds In The Spring' by Babs Santini

This LP is dedicated to LILITH ISIDORE WILLOW. May she live long and happily.

And of course, for Josianne too...
Tracklisting
Download Album (DURTRO017CD)
Malediction