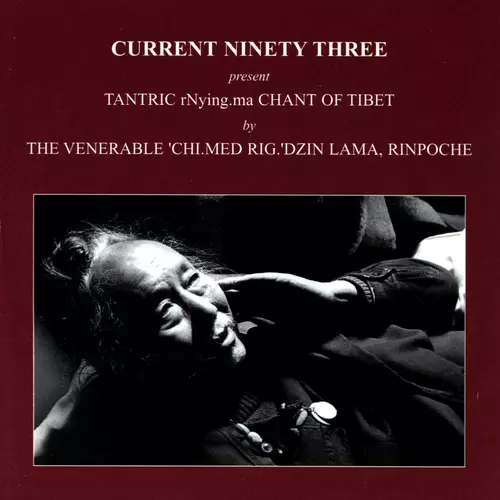 Tantric rNying.ma CHANT OF TIBET
Available Formats
Tracks
Price
Buy
Download Album (

MP3

)
2 tracks

£

7.99

Download Album ()
2 tracks

£

7.99
Description
Current Ninety Three Presents The Venerable 'Chi.Med Rig.'Dzin Lama, Rinpoche - Tantric rNying.ma CHANT OF TIBET
An early Durtro release of solo Tibetan Chant by the rNyingma Lama 'Chi.Med Rig.'Dzin Lama, Rinpoche.

Track Listing

1. Invocation of Yum Chenmo
2. Request For Blessing From Dorje Pagmo
3. Offering Of The Body, Kandro Gajan, By Jigme Lingpa
4. Verses On Cause And Effect
5. Dedication Of Merit
6. Reminder About Impermanence, Mitag Gyudkul, By Rigdzin Godem
7. Prayer To Guru Rinpoche
8. Visualization Of A Wrathful Form Of Guru Rinpoche, Dorje Dragpo Tsal Dag Kye
9. Prayer To Guru Rinpoche, Tsigdun Soldeb
10. Invocation Of The Deities, Chandran
11. Receiving Blessing, Chinbeb
12. Prayer To Yidams And Dharma Protectors, Chodpai Trinpung By Nuden Dorje
13. Dedication Of Merit


The Venerable 'Chi.Med Rig.'Dzin Lama, Rinpoche: Chimed Rigzin Rinpoche is the fourth incarnation of Nuden Dorje Drophan Lingpa Drolo Tsal, who was a great Terton or revealer of treasures. These are not wordly treasures but are spiritual texts and objects hidden in the eighth century by Padma Sambhava, the great Yogi who introduced Tantric Buddhism to Tibet.

Having received a full education in all aspects of Tibetan Buddhism he left his monastery, Khordong Gompa, at the age of eighteen, to fulfill the instructions of his root guru Tulku Tsorlo. Rinpoche went to India where he spent three and a half years in retreat at Tso Pema. He later taught for many years at Visva-Bharati University in West Bengal.

Throughout his stay in India he continued his spiritual practice of daily meditation, ritual worship on the appropriate days and teaching whoever showed interest.

Chimed Rigdzin Rinpoche is a Tantric non-celibate Lama as is common in the Nyingma tradition to which he belongs. He is familiar with the problems of work and relationships which are so troublesome in modern times and is skilled in teaching Buddhist methods for dealing with them. he has worked with many western scholars and has translated many volumes of the ritual texts of his Byangter and Khordong lineages. In 1985, at the age of 64, he returned to Tibet after an absence of forty six years. He found his monastery in ruins after the Cultural Revolution. Though there was much interest from the local people in reviving the spiritual traditions of the area there are no texts for them to study. And so Rinpoche has set about reprinting all the lineage texts.